By Laura Wade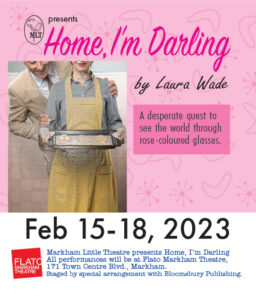 Tickets: Wed/Thurs: regular price $28, seniors & students $25.50
Fri/Sat: regular price $32, seniors & students $28.50
Buy tickets online now from Flato Markham Theatre Box Office
Venue: Flato Markham Theatre
Show Sponsor: 
Judy has Johnny's slippers waiting for him when he arrives home from work.  Her kitchen is spotless,
the laundry is folded, the ironing's done, and dinner is ready.  It's the perfect image of 1950's bliss.
The problem?  The 21st century keeps knocking on her door, and it demands to be dealt with.
Cast and crew:
Director: Steve Birtles
Associate Director:  Michèle Browne
Stage Manager:  Annie Clark & Sarah McDonald
Producer:  Angela Stewart
Set Design: René Vriends & Phillip Mitchell
Featuring:
Judy Atherton
John Fetherston
Tristan Stansfield
Kirsty Campbell
Susan Pybus
Christine Charnock
Notes:
"Home, I'm Darling" is staged by special arrangement with Bloomsbury Publishing.