Backstage is our "off-stage" home, located on the grounds of the Markham Museum, at 9350 Markham Road, just north of 16th Avenue.
How to get to Backstage: ask Google Maps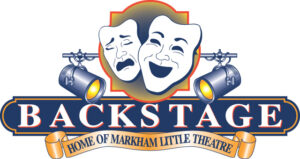 During our first forty years, we at Markham Little Theatre never had a permanent home. This all changed in the spring of 2006 when, after many years of discussions with the City of Markham and a major fundraising campaign, we moved into "Backstage", our wonderful new facility located within the grounds of the Markham District Heritage Museum on Hwy. # 48 just north of 16th Avenue.
We have a long term lease with the City of Markham on the building which we extensively renovated to accommodate all our needs. With a large rehearsal hall, a workshop, costume and change room, properties storage space, plus an office, archive room and more, we can work on all facets of our productions simultaneously.
Since September 2017, with our production of Norm Foster's "On a First Name Basis", we have presented some of our shows at Backstage. Backstage allows us an alternate venue, and allows longer runs, and the opportunity for more intimate presentations.
But don't get us wrong – we still love the Flato Markham Theatre – the option of two different venues lets us do even more!