Audition Notice for Home, I'm Darling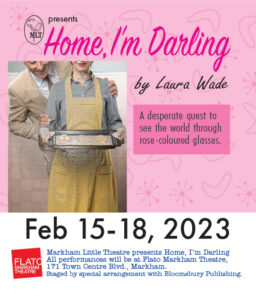 This play, by Laura Wade, introduces us to Judy and Johnny. They are a modern-day couple desperately trying to live a 1950's lifestyle. They have embraced the décor, the clothes, the appliances … but the real world is knocking at their door. Financial problems are threatening their happy existence, and things have got to change.
Audition Information
When?
Tuesday, November 29 (7:00 pm)
Thursday, December 1 (7:00 pm)
Where?
All auditions and rehearsals will take place at MLT's Backstage Theatre, located on the grounds of the Markham Museum (northwest corner of 16th Avenue and Hwy 48, Markham) — see map below.
Performances will take place at Flato Markham Theatre
Contact director Steve Birtles if you'd like to audition!!
Resumé and headshot would be helpful if you have not acted previously for MLT.
Auditions will be a done as a group, with a cold-read of scenes.
Roles
(Two male, four female)
Note: Ages are approximate
Judy (female – 38)
Alex (female – 40)
Johnny (male – 37)
Sylvia (female – 67)
Fran (female – 35)
Marcus (mae – 43)
Rehearsal / Performance Information
Rehearsal Schedule 
Table-read in December (date to be determined)
Rehearsals to take place on Tuesday and Thursday evenings, and Sunday during the day (times to be confirmed).
Some flexibility — directors will confer with cast.
Performance Dates
February 15-18, 2023 at Flato Markham Theatre
Interested in joining our CREW? 
Seeking all positions, including Producer and Stage Manager.
Please contact Sarah if you're interested!
Note:
All members of Markham Little Theatre are volunteers. MLT is a non-profit community theatre group, and does not pay its actors or crew.
You must be a member of MLT to take part in a production. Membership fees, which cover an entire season (September – May) cost $25.
Please check back often for the latest audition announcements.
Other Local Opportunities
ASSOCIATION OF COMMUNITY THEATRES – CENTRAL ONTARIO (ACT CO)
Find out about auditions for local theatres, in Central Ontario.