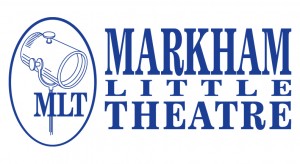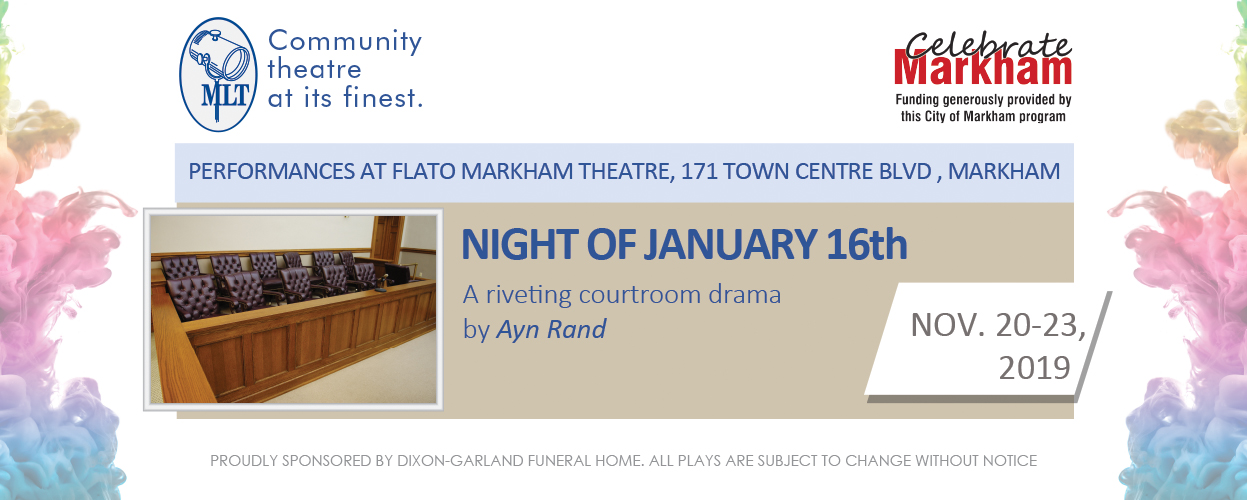 Calling Cast and Crew for NIGHT OF JANUARY 16th
Bjorn Faulkner is dead, and his secretary-mistress, Karen Andre, is on trial, in this 1930's Ayn Rand classic. For a fuller description, see the season show page for Night of January 16th.
Casting Information
There are 15 (count 'em, 15) roles to be cast, large and not-so-large. Character ages and descriptions are from the script, to provide some suggestion into the characters' personalities, viewpoints, and stations in life.  Some "male" roles (e.g. Judge Heath) may be cast as female.
Rand's philosophy of Objectivism views people as "heroic beings", and is focused on individual accomplishment and reason. Rand wrote that the play's events should not be taken literally, but instead as dramatizing psychological characteristics.  These ideas are reflected in the plot and characters of the play.
Major Roles – all three acts:
Judge Heath – F/M – A NYC judge, presiding over the murder trial, moderate number of lines
District Attorney Flint – M – Described as "heavy, middle aged", is well-established in his career, and likely expects this trial to enhance his reputation
Defense Attorney Stevens – F/M – Described as "tall, gray-haired, sophisticated", a successful, progressive attorney, but could be an early career female lawyer that has gained Karen Andre's trust
Karen Andre – F – The defendant, described as "age 28, slender, attractive, calm". "One's first impression of her is that to handle her would require the services of an animal trainer, not an attorney."
Nancy Lee Faulkner – F – Faulkner's widow, "22, blond, slender, delicate", is used to wealth and being doted on
Larry "Guts" Regan – M – A gangster, "tall, slender, young man", his love for Karen is unrequited (end of act 2, act 3)
Medium Roles:
Mr or Mrs John Hutchins – F/M – The building's night watchman (or custodian). He's described as a "timid, elderly man, neat, but almost shabby", if female, his wife, who works instead of her husband some nights
Magda Swenson – F – Housekeeper, Swedish, described as "fat, middle-aged, with plain, old-fashioned clothes"
Homer Van Fleet – M – Private investigator, "tall, not very young"
John Graham Whitfield – M – Nancy's doting father, a bank president, "tall, gray-haired, perfectly groomed, a gentleman"
Sigurd Jungquist – M – Bookkeeper, Swedish, "late thirties, timid, quiet"
Court Baliff/Clerk – F/M – Lots of stage time, with enough lines to keep the court proceedings moving along
Modest Roles:
Dr Thomas Kirkland – M – Medical examiner, "elderly, kindly, indifferent"
Elmer Sweeney – M – Police inspector
James Chandler – M – Police handwriting expert, "middle-aged, precise, dignified"
Auditions Will Be Held:
Monday July 15 from 7:00pm to 9:00pm
Wednesday July 17 from 7:00pm to 9:00pm
Wednesday July 24 from 7:00pm to 9:00pm
Additional audition dates/times may be added if needed
Other dates:
Call-backs (if necessary): TBD
Show runs: November 20-23, 2019 at the Flato Markham Theatre.
Readthrough: tentatively scheduled for Wednesday July 31 at 7:00pm
Rehearsals: likely Tuesday, Thursday, Sunday evenings, starting mid-September.  Not all actors will be required at all rehearsals.
Auditions will consist of cold ("luke-warm") scene readings from the script, in a group format.  If you have a theatrical resume and a selfie you like, bring them, otherwise be prepared to fill out an audition form and have your picture taken at auditions.
Auditions and call-backs will take place at our Backstage facility, located on the grounds of the Markham Museum at the north-west corner of 16th Avenue and Markham Road. Turn in at the lights across from McDonald's, and drive straight, keeping the museum to your left. Park in the small parking lot, then walk through the large gate. We're the first building on your right.
Note: MLT is a non-profit organization, staffed entirely by volunteers. We do not pay our actors. Or our crew.
Please contact John Sellens at auditions@markhamlittletheatre.ca for more information and to let him know when you would like to audition!
Crew Information
We need it all, folks! Producer, costumes, set design and build, sound, lights, running crew, … it's all up for grabs!
Interested in being backstage or offstage?  Mail John at auditions@markhamlittletheatre.ca, or plan to come to the first readthrough (TBA).
ASSOCIATION OF COMMUNITY THEATRES – CENTRAL ONTARIO (ACT CO)
Find out about auditions for local theatres, in Central Ontario.