By John Patrick Shanley
June 15-18, 22-25, 2022, 8pm, Backstage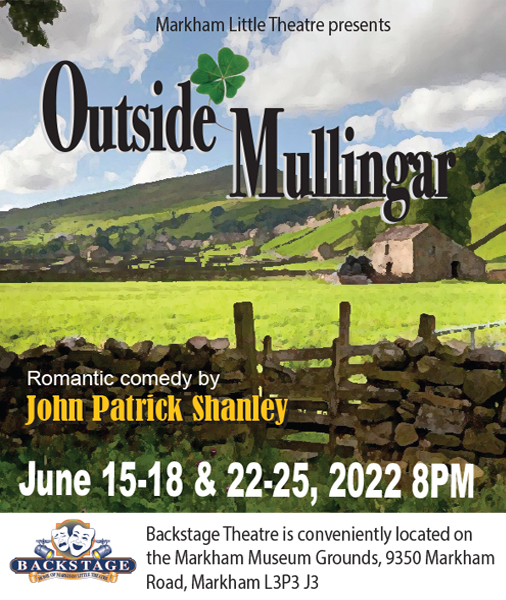 Tickets: $24 each
Venue: Backstage located on the grounds of the Markham Museum,at 9350 Markham Road, just north of 16th Avenue.

This beautiful play, by John Patrick Shanley, is a "stand-alone" fundraising effort for MLT following our pandemic hiatus.
Anthony and Rosemary are two introverted misfits straddling 40. Anthony has spent his entire life on a cattle farm in rural Ireland, a state of affairs that—due to his painful shyness—suits him well. Rosemary lives right next door, determined to have him, watching the years slip away.
With Anthony's father threatening to disinherit him and a land feud simmering between their families, Rosemary has every reason to fear romantic catastrophe. But then, in this very Irish story with a surprising depth of poetic passion, these yearning, eccentric souls fight their way towards solid ground and some kind of happiness.
Their journey is heartbreaking, funny as hell, and ultimately deeply moving. Outside Mullingar is a compassionate, delightful work about how it's never too late to take a chance on love.
Praise for the play:
"Mr. Shanley's finest work since Doubt … a softhearted comedy freckled with dark reflections on the unsatisfactory nature of life and the thorns of love." —NY Times.
"John Patrick Shanley has not written a more beautiful or loving play than Outside Mullingar." —Variety.
"Here as in Moonstruck, Mr. Shanley is telling a tale of inhibition overcome by love, but he's translated it (so to speak) from Italian to Gaelic, and the results are both charming and dramatically persuasive." —Wall Street Journal.
"Outside Mullingar is a valentine to the wonder and weirdness of love." —NY Daily News.
Cast and crew:
Director: Marlene Foran
Stage Manager: Annie Clark
Producer: Sarah McDonald
Set Design: René Vriends
Featuring: Beverly Sotropa, Nicky Marsh, Carl Gambacort, Cam Lund
For the safety and comfort of all our audience and volunteers, we ask that you wear a mask when visiting Backstage to enjoy Outside Mullingar – please refer to A Note in Regard to COVID-19. We thank you for your cooperation, understanding, and ongoing support!