Theatre Catch the Ace is currently on hiatus and not currently available for participation.
~~~~~~~~~~~~~~~~~~~~~~~~~~~~~~~~~~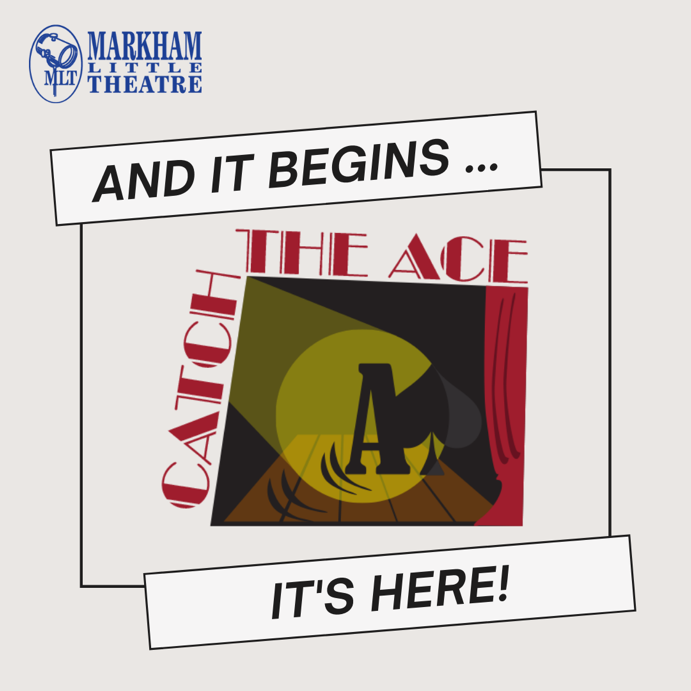 MLT has joined with 3 other community theatre groups in "Catch The Ace!".
Support your community theatres and buy your Catch The Ace tickets at theatrecatchtheace.ca.
We Have Exciting News!
Markham Little Theatre, along with BurlOak Theatre Group, Theatre Aurora and Scarborough Music Theatre, is launching a new fundraising initiative. We invite you to "CATCH THE ACE"!
We are excited to begin this journey with our theatre friends from Central Ontario. Markham Little Theatre provides affordable, award-winning productions to members of our community, and we are looking forward to getting back to work following the pandemic. We appreciate your support!
All proceeds from our Catch The Ace fund raiser will be shared equally among the four theatre groups involved: Markham Little Theatre, Theatre Aurora, BurlOak Theatre Group, and Scarborough Music Theatre.
What is "Catch the Ace"?
"Catch the Ace" Lottery is a Progressive Lottery.
Each week, tickets will be sold for the opportunity to select the Ace of Spades from a deck of 52 regular playing cards. Prior to the draw, each of the 52 playing cards are placed in brown envelopes. The envelopes are shuffled and numbered 1 to 52.
When tickets are purchased, the buyer chooses an envelope number from a list of available numbers, then enters the number on their ticket.
Each week, one ticket is drawn. The holder of that ticket automatically wins 20% of that week's sales. The envelope number noted on the ticket is opened.
If the card inside is NOT the Ace of Spades, the card is destroyed and is no longer available for future draws, and 30% of the weekly sales are placed in the progressive pot.
Each week, the progressive pot grows by 30% of the weekly sales.
Each week, the lucky winner of the draw receives 20% of the weekly sales.
If the envelope selected IS the Ace of Spades, then the lottery is finished and the ticket holder wins the weekly prize plus the Catch the Ace progressive pot.
More Information
More information, rules, and online tickets can be found at theatrecatchtheace.ca.
Catch The Ace – License #RAF1203413