Auditions
MARKHAM LITTLE THEATRE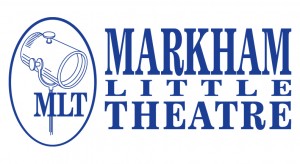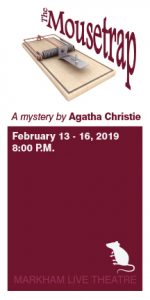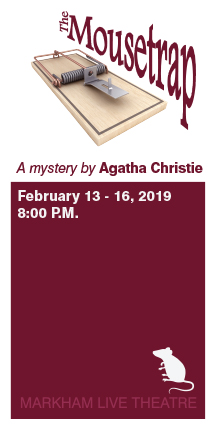 Seeking cast for The Mousetrap                                            
Mollie and Giles, owners of a recently opened inn, are eagerly preparing for the arrival of their first paying guests.  In spite of poor weather, the rooms are soon filled with an interesting array of eccentric characters.  When the group is trapped by a raging blizzard, they discover to their horror that there is a murderer in their midst!
Audition Dates:
Tuesday, November 20 at 7:00pm
Thursday, November 22 at 7:00pm
Auditions and rehearsals will take place at Backstage.
We are on the north-west corner of Hwy 48 and 16th Avenue, inside the grounds of the Markham Museum.  Turn at the lights just north of 16th across from McDonald's, and look for the big brown building on your right through the iron gates.
Auditions will consist of cold reads from the script.
NOTE:  British accents required!
Rehearsals will begin in November, taking place at Backstage on Tuesdays, Thursdays, and Sundays.
Performances will be staged at the Flato Markham Theatre (at Warden and Hwy 7) from February 13-16, 2019.
The Cast:
Mollie Ralston (30-40ish)
She owns the Manor with husband Giles.  She is mild-mannered, proud of her new business, and eager to make it work.
Giles Ralston (30-40ish)
Mollie's husband.  Temperamental at times, protective of Mollie.  Thinks of himself as handy around the Manor.
Christopher Wren (20-30)
A guest at the Manor.  Chatty, hyperactive, quirky, and mysterious.
Mrs. Boyle (50-60ish)
Abrupt and usually unpleasant to almost everyone around her.  Never satisfied with anything or anyone.
Major Metcalfe (50ish)
A retired army officer.  He has a mysterious manner about him, but he seems quite pleasant and helpful.
Miss Casell (20-30)
She seems a bit "off the wall".  Dressing in a very masculine fashion, she is unsociable and very reserved.
Mr. Paravicini  (50-60ish)
He seems to be putting on an Italian accent, and is peculiar. No on is quite sure what to make of him.
Detective Sergeant Trotter (30-40ish)
Very pleasant manner, but professional.  Adept at questioning suspects and sleuthing.
_____________________________
This play will be directed by 
Michele Browne
.  Please contact her with any questions, and to let her know that you're interested in auditioning!  
michelebrowne@rogers.com
Please check back for future audition notices
ASSOCIATION OF COMMUNITY THEATRES – CENTRAL ONTARIO (ACT CO)
Find out about auditions for local theatres, in Central Ontario.